Welcome to S*Little L's. My name is Sylvia Dahlkvist and I live in a small village called Fritsla. It's located about 20 km south of Borås. My family is my husband Kim and my children Amanda 21, Charlie 19 and Hannah 10 years old. Amanda has already moved out and living with her own cats in an apartment in Borås. We also have a dog named Bessa and of course all my cats. All the cats live in the house with the family and are wonderful pets, and it's also where I have my catteri. I've chosen to have my cats as indoor cats, because I think that cats are living very dangerous when they running around freely outdoors. But when I want them still to be stimulated, we have set nets on our balcony and we have built several catruns, wich they have free access to through the catdoor. Lots of pictures of the catruns can be found here!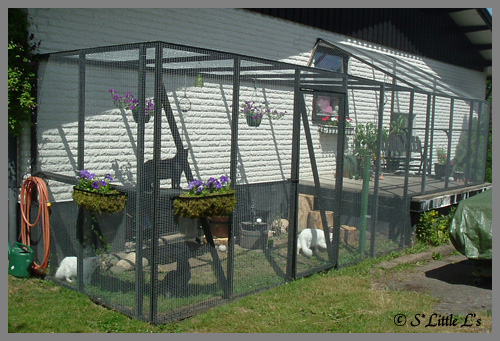 My goal is to breed healty, harmonic cats with god temperment. That first are loving pets but thats also are beautiful and fullfills the standard of Norwegian Forest Cats as god as possible. To do this, I think you have to learn a lot. That is why I have chosen to spend much time to learn about cats and cat breeding. Naturally, with a focus on Norwegian Forest Cats. I participate in all courses, seminars and lectures offered. I am visiting cat shows and listen to different judges, and of course I show my own cats.
I'm a graduate breeder in SVERAK.
If you click on the image you can read about the diploma and who have passed the test.
I have G1, G2 och G3-degree diploma in PawPeds PawAcademy.
G1 is the first step, G2 is the second step and G3 is the third and last step
in a training

for cat breeders.

If you click on the different images to the left


You can read more about this training and who have passed on.
I have a license from my municipality to breed cats according to §16 in the Animal Protection Law.
I test all my breedingcats for HCM (Hypertrophic Cardiomyopathy). It's a genetic disease which affects cats, dogs, pigs and people. How it is passed on in generations is still not clearly discovered. Since the 1970's it is known that HCM is the common cause for heart failure, thrombus and sudden death in cats.
I have tested all my breedingcats for GSD IV (Glycogen Storage Disease type IV). It's an inherited disorder affecting the glucose metabolism. This inherited deficiency is known in humans, horses and cats, but among cats it has only been seen in the Norwegian Forest Cats. GSD IV is inherited as a simple autosomal recessive trait, which means that both parents must be carriers of the mutated gene in order to produce affected offspring. None of my breeding cats have the mutated gene.
I have tested all of my breeding cats for the disease Pyruvate Kinase Deficiency, also known as PK Def. It's an inherited anemia disease that exists in humans, dogs and cats but the symptoms are slightly different between species. PK Def. is an autosomal recessive gene which means that males and females are equally affected. Recessive means that two copies of the gene are necessary for developing the disease, one from the mother and one from the father. A cat that has only one recessive gene is called a carrier of the disease and has no health problems and is as healthy as any other. However, it is important to be aware that the cat carries this defect gene in order not to mate it with another carrier. It is easy to test the cat's DNA by swabbing the cat's cheek or with blood tests. Then you get an answer to whether the cat is normal, carrier or affected. None of my breeding cats have this defect gene.
Kitten leave my home at the earliest when they are 12 weeks old. They have a SVERAK-pedigree and are vaccinated, Id-chipped, dewormed and have a health certificate from the veterinary. The kittens are used to children, dogs and ordinary family life. E-mail works fine as the first contact but then I want to meet in person. Personal chemistry are important because I as a breeder want to follow, support and be there for my kitten-buyers. Of cause very long distans are something that can change things. I perfer that the kittens remain indoorcats.
I hope that you have a plesant visit on my website and please leave a pawprint in my guestbook before you leave.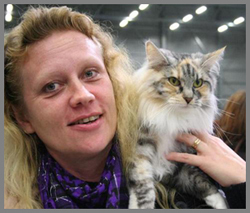 ♥ ♥ ♥ ♥ ♥ ♥ ♥ ♥ ♥ ♥